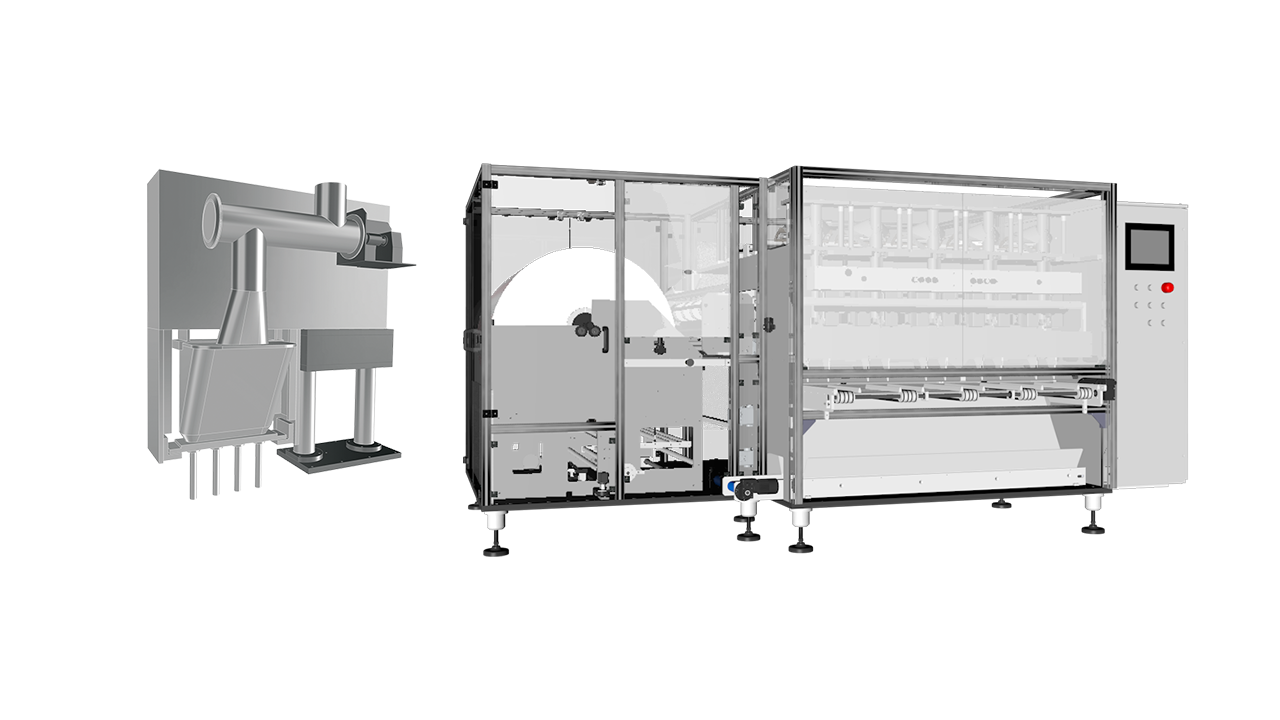 FAF – Flowpack
Auger Filler Doser for fine non free-flowing powders.
One (1) Multiple Auger Filler that includes :
Product inlet horizontal screw feeder
Pre feeding hopper with agitator
dosing augers, straight or self-feeding type driven by individual servomotors
Servo driven product cut-off system
All parts in contact with the product are made of Stainless Steel or other food-grade material
Dosing hopper with a transparent inspection window for external level control by means of capacitance sensors
Aluminium Frame Base to mount Multilane sachet machine lifting columns
Programmable number of auger revolutions to achieve the targeted weight
Programmable agitation control
Alarm function indicators with error messages to aid location of the problem
Fill products: Chocolate powder, digestive salts, instant drink, baking powder, vanilla sugar, pharma powder, powdered stock, non sugar sweeteners, etc.
A new concept (patented) of 4-5-6 lanes flow pack machine, able to produce pillow bags on multi lanes starting from one single reel of wrapping material with long run capability (only one reel change per day).
This concept avoids the use of many machines and as a consequence reduces the required floor space, technical installations, (i.e. power supply connection, air connection, product feeding, coding systems), the number of operators, the number of reel changes, thus increasing efficiency and production capacity.
The machine has the capability to independently control the tension of the wrapping material for every single lane, this due to a special double servomotor system that pulls the material (there is no pulling action from the sealing jaws).
Thermal control is very accurate and independent for each lane, conventional sealing is utilized, pulse sealing will be available in the near future.
Standard pillow bag shape, in the near future the option of gusseting and squared bottom will be available.
Speed approx 40-80 cycles/min (up to 160-480 bags/min/total) depending on the bag size and shape, the type and quality of wrapping material.
The design of the upper machine area allows the installation of a wide range of dosing systems:

for powder: oscillating cups, auger, rotary volumetric;
for liquid: piston pump, cip piston pump, cip flowmeter;
for solids: counting systems, weighing systems.
| | |
| --- | --- |
| max reel width | 1200 mm |
| max reel diameter | 1000 mm |
| max bag width | 135 mm [4 lanes] 110 mm [5 lanes] 90 mm [6 lanes] |
| max bag length | 200 mm |
| voltage | 400 V + N + PE |
| installed power | 16 Kw |
| average absorption | 2-3 Kw |
| air consumption | 1up to 140 nl / min |
| dimensions + doser | 3850 x 1900 x 2000 mm |