4 side seal machine
EVO 2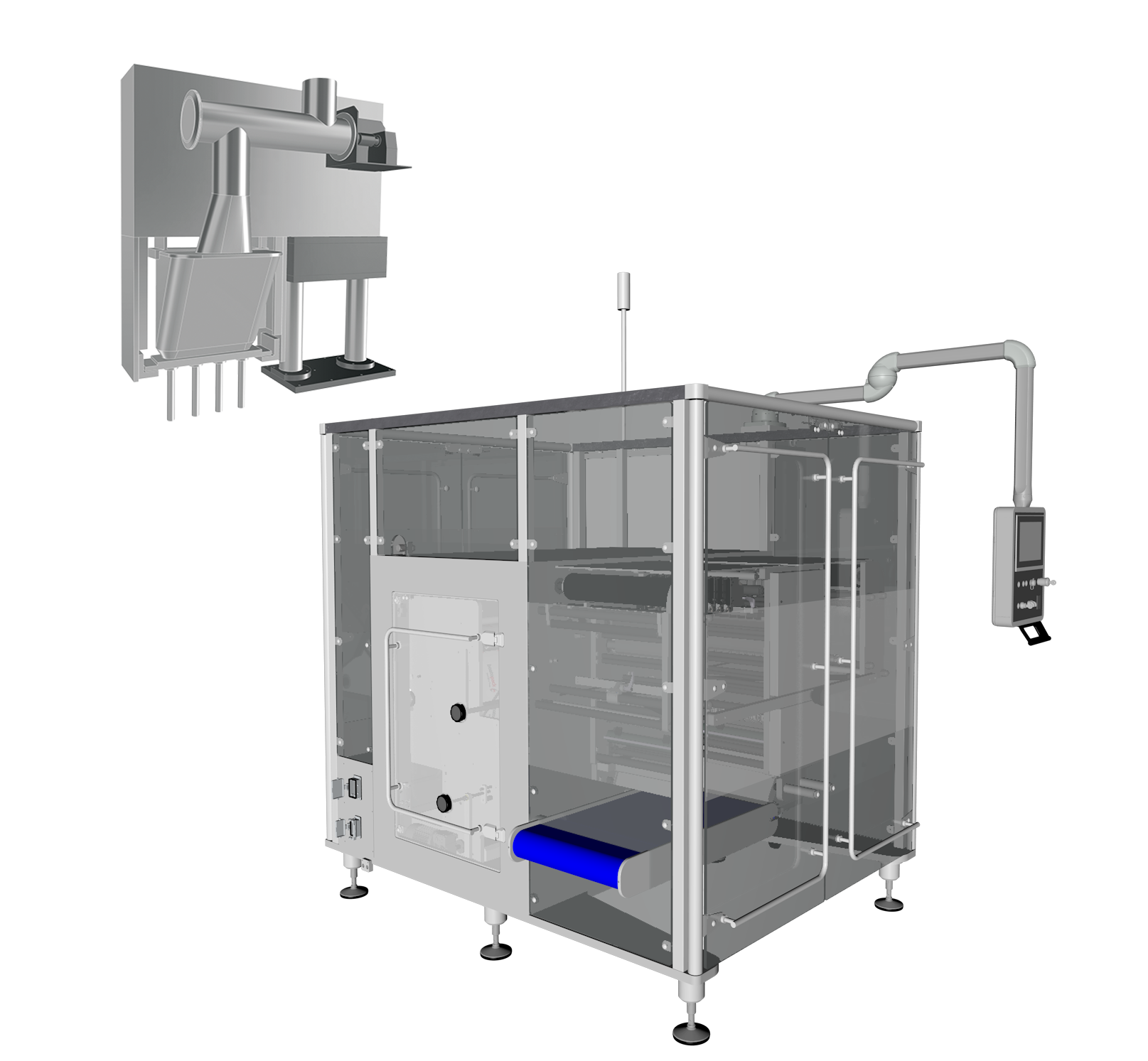 Doser FAF
Auger Filler Doser for fine non free-flowing powders.
One (1) Multiple Auger Filler that includes :
Product inlet horizontal screw feeder
Pre feeding hopper with agitator
dosing augers, straight or self-feeding type driven by individual servomotors
Servo driven product cut-off system
All parts in contact with the product are made of Stainless Steel or other food-grade material
Dosing hopper with a transparent inspection window for external level control by means of capacitance sensors
Aluminium Frame Base to mount Multilane sachet machine lifting columns
Programmable number of auger revolutions to achieve the targeted weight
Programmable agitation control
Alarm function indicators with error messages to aid location of the problem
Fill products: Chocolate powder, digestive salts, instant drink, baking powder, vanilla sugar, pharma powder, powdered stock, non-sugar sweeteners, etc.
High speed vertical continuous sachet machine designed to form-fill and seal on 4 sides sachets of thermosealable material.
Machine design and configuration according to CFR Title 21 parts 11, 210, 211 and to EudraLex Volume 4 GMP Guidelines.
Main frame made of hardened/anodized alluminium, clear easy to clean surfaces, hygienic support feet.
All the parts in contact with the wrapping material internal layer are made with food grade finishing (option).
Easy accessibility on all the machine sides through transparent doors connected to the machine safety control system.
Top cover to avoid contamination from the external environment.
Lift predisposition for reel change, format change, doser change.
Active unwinder station (servo) with automatic film edge alignment and splicing table.
Predisposition for the areas of both coding (thermal transfer, ink-jet, laser) and verification systems (pharmacode, batch-expiring, data matrix, etc.).
Full servo motion of the various axis involved in the packaging process, reduced number of mechanical components for minimum maintenance.
Improved thermal and pressure controls of the sealing process, all the parameters are included in the HMI recipes, all the sensors involved in the sealing process are calibrated (option).
Boato Pack Modular Block System (BPMBS®) for easy size change of doser, sachet width, number of lanes.
Automatic system for sachet sampling (option).
Stainless steel electric cabinet with air cooling system (no interchange of air with the external environment), hygienic sealings on the doors, UPS for the control system (power UPS available as option), swinging arm cabinet for HMI and commands.
12" HMI with gateway function for remote connection service of the machine automation, troubleshooting/training manuals and videos pre-loaded on the HMI.
Biometric and conventional (password) operator authentication, operations/events log, webcam connection predisposition for mechanical remote support.
max reel width
960 / 1200 mm
(reel width / 2 / sachet width = n° production lanes)
max reel diameter
600 mm / 1000 mm
sachet width
min. 25  – max. 150 mm
max sachet length
250 mm
voltage
400 V + N + PE
installed power
16 Kw
average absorption
3 – 4 Kw
dimensions [max]
TOV480-EVO2-600 2450 x 2150 x 2200 mm
TOV600-EVO2-600 2600 x 2350 x 2200 mm
TOV480-EVO2-1000 3250 x 2150 x 2200 mm
TOV600-EVO2-1000 3400 x 2350 x 2200 mm